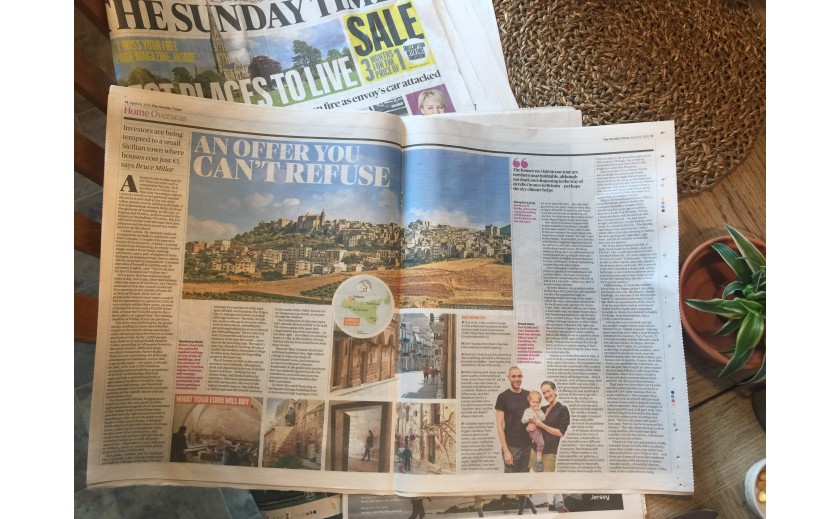 The Sunday Times - 14 April 2019
The Sunday Times - 14 April 2019
A 40-minute drive from Sambuca is the town of Cianciana, comparable in size, but with a very different atmosphere — less elegant, more homespun, but buzzing with activity. Where Sambuca has faded gentility, art galleries, a museum of antiquities and a visitor centre promoting its vineyards, Cianciana has a monument to the sulphur mines that brought work, if not wealth, to the town throughout the 19th century. Fittingly, the celebrity international homeowner here is the tough-guy actor Ray Winstone.
Cianciana has no €1 scheme, but its astoundingly low prices and warm welcome have brought 800 property buyers from as far away as Australia and China in the past decade. Most are retirees or summer-only visitors happy to buy a fully functional house with two or more bedrooms from €35,000, but there is a smattering of younger couples.
Felicity Hollowell and Andrew Tilston, from Wrexham, were probably the youngest when they bought a little townhouse five years ago on a whim — they were both 27 at the time. "It was a random idea to sell my used car and buy a house instead — we had never bought one before," recalls Felicity, who works for a hotel in the UK. "The buying experience was scary but fun, with a whole office of people shouting in Italian. We were getting told 'Sign here, sign here', and all of a sudden we had the keys and the papers."
The 90 sq metre house was full of junk, but liveable for holidays, and cost €11,000. The couple have spent €5,000 on refurbishments. "It's not complete, but we're in no rush," Felicity says. "We're not as rich as other expats, and only spend a bit on renovation each year. We've put on a new roof, installed a water tank, a new bathroom, a new kitchen and new doors, and done some plastering. Some people do the DIY themselves, but we realised we're pretty useless."
Phillip Hulme, 33, from Manchester, is working on a bigger project, knocking two houses into one. His fiancée, Shelley Depledge, 40, was one of the first foreign buyers in Cianciana more than 10 years ago. Both can spend much of the year in Sicily because their work is web-based: Hulme teaches maths and computing remotely to clients from Kuwait to Sudan; Depledge, from Birmingham, has a credit-control business.
Among the town's newest arrivals are another couple whose work allows them to live as "digital nomads". Having spent spending more than a year living in Airbnbs in 24 countries, Taru Tuomi, 37, a Finnish-Swedish holistic lifestyle coach who advises clients via Skype, and her husband, Tevi Tuakli, 34, a business technology strategist from London, were prompted to put down roots near the Mediterranean after the birth of their son, Rowan, now 21 months. France, their first choice, was prohibitively expensive, so, late last year, they bought an unoccupied site on a steep hillside a mile away from Cianciana, where they plan to build a house and plant a permaculture farm amid the old olive and almond trees.
Their main two-acre plot cost €4,000 and they added another six acres for a total of €7,000 after making offers to seven neighbours. This summer they will start work on a North African-style dammuso house with a domed roof that collects rainwater: they have a budget of about €20,000 and, if all goes well, they will be living their dream for less than €40,000 within a year of setting foot there. "We love our peace and quiet," Taru says, "but we can be in town in five minutes." The only thing missing is other young families; she hopes that their example, and the low prices, will attract more permanent settlers.
Whichever way you approach it, a fully habitable house in Sicily will cost plenty more than a single euro, but rather less than in anywhere else I'd like to live — and there are dozens of towns like Sambuca and Cianciana with property to spare, beaches nearby, a bountiful climate, excellent food and ancient culture. I'll be back on the trail before too long.
SICILY BUYING TIPS
First of all, order a codice fiscale. It's like a National Insurance number, and you need it to buy a property. Order it free from the Italian consulate (conslondra.esteri.it).
Don't bypass the proper channels. Use a registered estate agency.
Buying in Sicily is a public ceremony, like a wedding. Set aside a full day and be ready for delays — and maybe a big celebratory dinner afterwards.
When having work done, expect good-quality craftsmanship at lower prices than in the UK, but be warned: costs can creep up. Services and deliveries can be unreliable. Allow for cultural differences, says Ben Masterton-Smith, a London architect who has done projects there: "southern time" and the fact that yes doesn't always mean yes.
Outsiders worry about the mafia, but they have bigger concerns. Petty crime is rare in small towns: cars and windows are left open, craftsmen leave tools on site. Nosy neighbours offer better protection than CCTV. "I feel safe any time of the day or night," says Pat Hellman, who retired to Cianciana from Arizona four years ago.