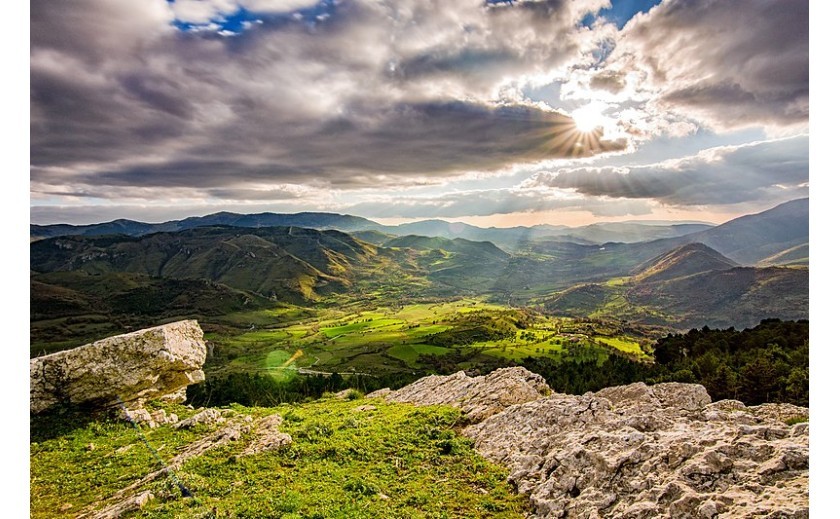 Sicily's Dreamy Southwest Mountain Towns - by Spencer
https://allthingssicily.com/?p=668
I've held off from writing this article for some time. Personal reason's have held me back I guess, but it is time. Almost long over due and I've been questioned why multiple times. "Timing is everything" I tell the one's asking. This article hit's home, literally. I'm blessed to own a home in Alessandria Della Rocca and have spent lots of time in Cianciana. I figured I needed to do this article justice and make the residents proud. The people here are humble, resilient, extremely hard working and the hospitality that I've been shown is second to none. They take the utmost pride in their communities and it shows.
I'm not really sure how I found Alessandria Della Rocca & Cianciana. Locals always ask me why here? Why not buy elsewhere? Why not buy in a big city? Honestly, I like to think that the area's energy summoned me to its location and I was brought here for a reason. Like it was meant to be or I was supposed to be here. If you ever make it here you'll see why I chose to buy here. Located in the southwest of Sicily, in the heart of the Agrigento region. Both towns are trapped in time, slowly adapting to whatever today's society modern way of thinking is. Luckily the old ways are the only ways here. A true authentic Sicilian day to day life style is still practiced and I hope it stays that way. The charm of small town living is the appeal, the countryside it's portrait and a local community that cares about their neighbors, is reason enough to fall in love with this location.
Alessandria Della Rocca & Cianciana are located in the mountains and surround by olive groves and vineyards. Driving down the mountains, you can be at Seccagrande(local beach town) in 25 minutes and either Agrigento or Sciacca in under an hour for that big city feel. Both are coastal towns and great day trips for heading to the beach, eating local seafood or absorbing some great architecture and history. Heading higher up into the mountains is Bivona(known for their peaches) and Santo Stefano. Daily activities you can find in the area include hiking, vineyard tours, olive oil making or cooking classes and lazy days at the beach.
All four mountain towns are roughly the same size in area and population. They all offer exceptional restaurants and pretty much the same amenities to get you by day to day. Each town definitely has it's own feel and vibe which makes each unique to their own charm. In each town you can find your local bread maker, wine producer, butcher, plumber & electrician, and boutique owner. The list goes on and the title is usually handed down generation to generation. Everyone knows everyone and that really makes the sense of community and overall happiness in day to day life worth getting out of bed. Life expectancy into your 90's is a reality in Sicily.
Outside of town heading into the countryside, the area has a strong agriculture industry ranging from olive oil production to wine production, along with pistachios and almonds. It seems like everyone is a local artesian farmer producing the best. They are.. No joke, the flavors coming from this region are the best I have ever tasted. The olive oil is like butter and Sicilian's consume more olive oil per person on a yearly basis than anywhere else in the world. The restaurants in the area are top notch.The area has a growing expat community as well. Low real estate prices mixed with high inventory makes purchasing attractive for the foreign investor looking for permanent residence or a vacation home. Right now the dollar is stronger than the euro which gets you more bang for the buck. Plus the overall cost of living is a fraction of the cost of living in the states and there is a price point for every buyer in Sicily.
Sicily has over 250 days of sunshine a year, surrounded by the Mediterranean and offers some of the best food and wine on the planet. Also it is super easy to buy in Italy as an American. Little to no red tape. Owning real estate here is a win win. If you're interested in learning how to purchase property in Sicily, head to the menu bar on the landing page and click the link for my book on Buying Italian Real Estate and follow up by reaching out to Joe or Carmelo at MY HOUSE. They're the top real estate agents in the area and can help you make that Italian home ownership dream become a reality. https://ciancianamyhouse.it You can also head to the Vino page for information on local vineyards VINO or REAL ESTATE to see my before and after photos from my home buying journey.
I want to the thank the people of Alessandria Della Rocca for your hospitality, your kindness and welcoming me with open arms. I will forever be grateful for all the friends that I've made along the way and look forward to being part of your community for the years to come.